2018 Jeep Cherokee Review
Car owners in Mt. Union, Huntingdon and Cassville prefer a vehicle that's ready for every driving scenario under the sun, and no other vehicle lives up to this requirement quite like an SUV. If you drive an SUV, you'll have the power and performance that makes driving around the city a breeze and allows you to take an off-road adventure whenever you want or need.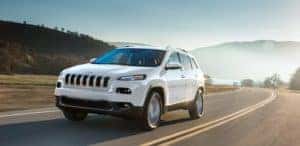 Although there are a variety of SUVs you could choose to drive, your best choice if you want the highest quality vehicle possible is the Jeep Cherokee. Read this brief review of the 2018 Jeep Cherokee so that you can learn about this vehicle's best features that you may find irresistible.
Engine Power and Performance Features
As you might expect from one of the market's leading compact SUVs, the Jeep Cherokee provides impressive power and a range of performance features that will ensure you're ready for every driving challenge possible.
Two engines are available in the Cherokee, but drivers that want as much power as possible should choose the available 3.2-liter Pentastar V6 engine that produces 271 horsepower and 239 pound-feet of torque. Jeep vehicles are well-known for the off-road ability, and the Cherokee is no exception, allowing you to choose one of two excellent 4×4 systems and providing a 56:1 crawl ratio with the base engine.
Check the Inside
After learning about the impressive performance options provided by the Jeep Cherokee, you probably want to know about the features that you'll find in this vehicle's cabin. Whether you prefer utility or advanced technology, the interior of the 2018 Jeep Cherokee has something for everybody.
Capable of seating four passengers and offering seating with available leather trimming, the cabin of the Cherokee would feel right at home in the luxury class. There are also 60/40 split-folding rear seats so that you have exciting cargo storage flexibility.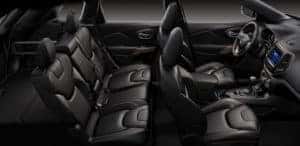 When it comes to technology, the Cherokee features multiple available Uconnect infotainment systems, with enticing features such as navigation and smartphone connectivity.
Learning About Safety
If you're still not convinced that the Cherokee is the right vehicle for you, then you should take a look at the safety features provided by this SUV.
The Cherokee has been built from the ground up for safety, constructed with a high-strength steel frame for maximum crash protection and providing ten advanced airbags to mitigate the damage caused by accidents. You will also appreciate the active safety features available in the Cherokee, which includes such options as blind spot monitoring, forward collision warning with active braking and parking assistance.
Take a Close Look at the 2018 Jeep Cherokee
Out of all the models available in the compact SUV class, your best choice is the new Jeep Cherokee, which offers an unstoppable combination of performance, comfort and safety. If you want to see the 2018 Jeep Cherokee in action, you should schedule a test drive at Price Motor Sales.
Price Motor Sales is the top dealership for consumers from Huntingdon, Mt. Union and Cassville, and we would be thrilled to help you find your next automobile. Pay us a visit and one of our sales representatives will tell you about our best new and pre-owned models.