2018 Jeep Compass Review
If you like the look of the classic Cherokee but would like a little smaller vehicle at a lower price point, the 2018 Jeep Compass may be your best crossover SUV option. Price Motor Sales serves loyal customers in the Cassville, Mt. Union, and Huntingdon, PA, areas, and as a service to you, we offer you this 2018 Jeep Compass Review.
Jeep Compass Redesign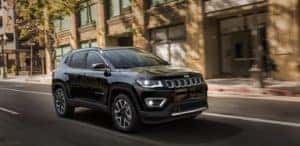 The Jeep Compass was fully redesigned in the middle of 2017 with spectacular results. When you check out the 2018 Jeep Compass' exterior, you'll notice it borrows its sweet design notes from the Cherokee, including the high front end and reduced grille. The interior is also reminiscent of the Grand Cherokee with its soft-touch materials, high-quality trim, and improved soundproofing.
Compass stakes its space between the Renegade and the Cherokee by offering 27 ft3 of rear storage, and a 60/40 rear seat split that affords an impressive 60 ft3 of room. If you plan to camp at Canoe Creek State Park or Rayston Lake and Dam, you've got plenty of space in the new Compass to pack your fishing gear.
Compass Specs
Most 2018 Jeep Compass buyers will purchase a front-wheel drive option, but as you know, a Jeep wouldn't be a Jeep unless it could perform off-road. The Compass offers a Sport, Latitude, Limited, and Trailhawk trim, all with a 2.0L, 4-cylinder engine and standard FWD. The Sport offers a 6-speed manual transmission, and the Latitude offers trims with manual and automatic transmission, including both 4×4 and FWD options. If you want real off-road versatility, we recommend the Compass Trailhawk, featuring four-wheel drive and suspension calibration. These will come in handy whether you're crossing a dry creek bed or backing out of a snowy driveway.
On the highway, the 2018 Jeep Compass has a smooth ride that approximates the feel of a car more than an SUV. Drivers will feel its weight on the road; you won't get the sense that a strong wind will push you across lanes or that a curve will send you reeling. With an EPA-estimated 22 city/30-32 highway MPG, your Compass will keep you firmly on the road but won't lighten your wallet.
Safety Is Key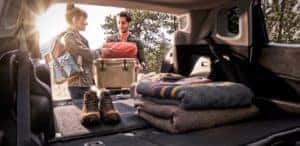 When you're camping or enjoying everyday pleasures with your family, you want to know that everyone will remain safe and sound in the case of an accident. The Insurance Institute for Highway Safety ranks the 2018 Jeep Compass as "Good" (the highest rating) in four safety tests including moderate front crash, rear crash, side impact or roof impacts. No matter where danger meets you, in the Jeep Compass, your family will remain safe and well.
Jeep Compass Technology
When you purchase a Jeep, you can stay connected with the award-winning Uconnect® connected vehicle platform that offers you the best in Internet connectivity, entertainment, navigation, and communication features. Uconnect® can help you start your car remotely, find your vehicle in a crowded parking lot, contact roadside assistance, make your car a Wi-Fi hotspot or connect you to more than 150 channels of entertainment. The best way to use your Uconnect® system is with the 8.5-inch non-standard touchscreen.
Test Drive the Jeep Compass at Price Motor Sales
If you're looking for a new Jeep with advanced technology and reliable safety features to drive around the streets of Cassville, Mt. Union, and Huntingdon, the 2018 Jeep Compass is the perfect choice. Contact the team at Price Motor Sales today to set up your test drive.