2018 Jeep Grand Cherokee Review
Are you looking for an exciting, energetic new ride? Look no further than the 2018 Jeep Grand Cherokee. This SUV features a sleek exterior, a high-performance engine, and a bunch of attractive safety features.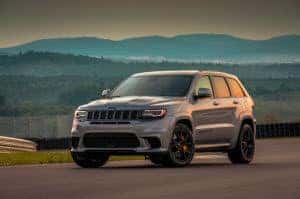 If you're around the Cassville, Mt. Union, and Huntingdon areas, and want to know more about the 2018 Jeep Grand Cherokee, this review from Price Motor Sales will tell you everything you need to know.
Engine Options
The first thing that jumps out about the 2018 Jeep Grand Cherokee is a high-strength, reliable engine. Actually, it offers two engine choices to better fit your needs.
The first is a Supercharged 6.2L HEMI® V8. With up to 707 horsepower and 654 lb-ft of torque, this engine produces a fun and robust ride. On top of that, forged-alloy pistons and sodium-cooled exhaust valves help ensure this powerful engine will be able to handle anything.
The second option is all about versatility, a staple for the 2018 Jeep Grand Cherokee. With 475 horsepower and 470 lb-ft of torque, the 6.4L HEMI® SRT V8 engine doesn't skimp on power. This engine is also paired with an efficient eight-speed automatic transmission that features seven drive modes: Auto, Sport, Track, Snow, Tow, Eco and Valet, as well as a custom setting. With this many options to choose from, you'll be able to effortlessly transition from the highway to your favorite off-road trail.
Stylish Exterior for the 2018 Jeep Grand Cherokee
The clean-cut, iconic look that defines the Jeep Grand Cherokee becomes immediately evident when looking at the 2018 model.
The seven-slot grille is a staple of the brand, and gives the Grand Cherokee a refined appeal. Also, Signature Headlamps help modernize the exterior.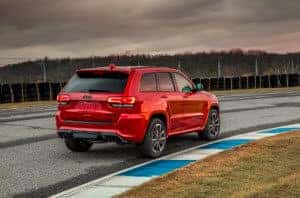 These available Automatic High-Beam Headlamps detect brightness from oncoming traffic, and then automatically adjust their own beam intensity. With this self-monitoring light system, you'll always have the most visibility your headlights can offer, and never again have to worry about leaving your high beams on when oncoming traffic is approaching.
Safety and Security
While the souped-up engines and flashy exterior are appealing, the 2018 Jeep Grand Cherokee comes with a variety of high-tech safety features, too.
In case of collision, this SUV is designed to absorb energy and redirect it away from passengers thanks to front and rear crumple zones. Seven airbags strategically placed throughout the vehicle, including front passenger airbags and side-curtain airbags, offer added protection in the event of an accident.
The available Blind Spot Monitoring System is another noteworthy safety feature for the 2018 Jeep Grand Cherokee. This feature makes changing lanes safer by alerting you when another vehicle enters your blind spot.
Lastly, a Forward Collision Warning System with Active Braking will help you avoid accidents. This system alerts you if it detects the possibility of a forward collision, and if you don't respond, it will apply the brakes automatically.
Schedule your test drive today at Price Motor Sales to check out the all-new 2018 Jeep Grand Cherokee!