2018 Jeep Wrangler Review

When you think of off-roading, the first vehicle that comes to mind is the Jeep Wrangler. Its rugged design has become a classic that's synonymous with 4×4 versatility and toughness. It's a great choice for conquering the outdoors around Cassville, Mt. Union, and Huntingdon.
But what's the latest Wrangler capable of? Price Motor Sales put together this 2018 Jeep Wrangler review, so you can see how this iconic Jeep stays on top.
Jeep Wrangler Power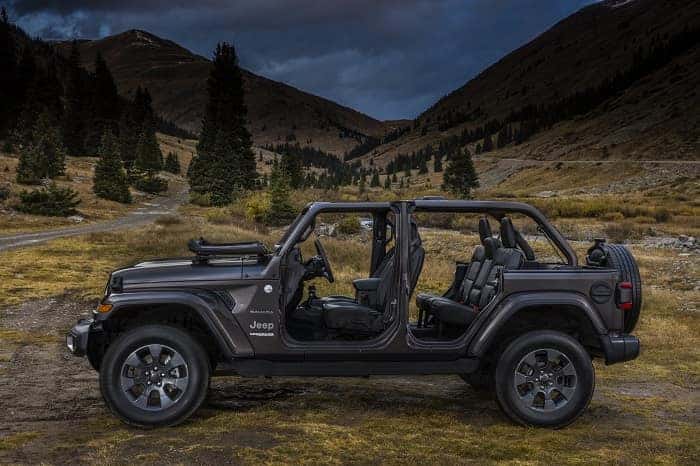 The 2018 Jeep Wrangler has all the power you'd need for off-roading and towing. It has a standard 3.6L Pentastar® V6 engine that gets up to 285 horsepower and 260 lb-ft of torque.
The standard transmission is a 6-speed manual, but there is an option for an 8-speed automatic transmission as well.
This powerful engine helps the Wrangler tow everything from campers to boats. The two-door model has a towing capacity of 2,000 pounds, while the four-door can tow up to an impressive 3,500 pounds. There are front and rear tow hooks to give you easy access and added convenience.
In addition to being powerful, the 2018 Jeep Wrangler is also fuel-efficient. It gets an EPA-estimated 23 MPG highway.
Wrangler 4×4 Systems
There are three versatile 4×4 systems on the 2018 Jeep Wrangler, designed to give you stability and traction wherever your adventure takes you.
The Selec-Trac® 4×4 System has a full-time mode that switches between two-wheel drive and four-wheel drive automatically, depending on the terrain and driving conditions. This gives it the ability to conqueror rocky roads and nasty weather, but also provide a smooth, efficient ride in good conditions.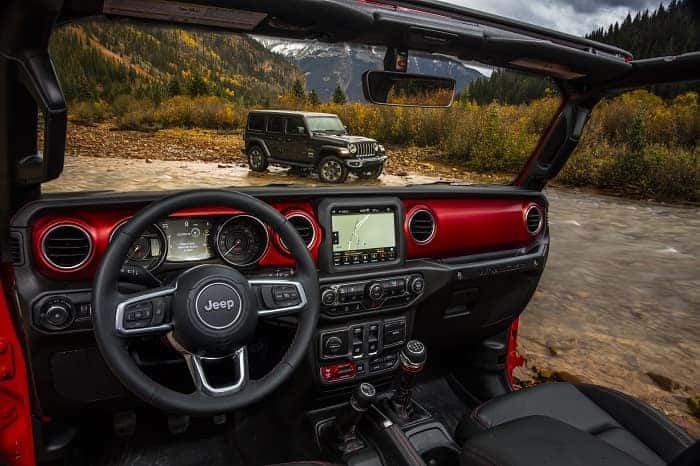 The Command-Trac® 4×4 System takes this shifting to another level. Its equipped with a shift-on-the-fly system and a NV241 GII transfer case that kicks in to adjust to any terrain. With its 2.71:1 low range you'll be able to get over rocks with ease.
The most powerful system is the Rock-Trac® 4×4 System. It provides more torque for added grip and control. It has a NV241-Off-Road transfer case, a 4:1 low gear ratio, and can lock the front and rear axles with Tru-Lock®, making steep terrain no match for this system.
Designed For Off-Roading
The power under the hood and the 4×4 systems on the 2018 Jeep Wrangler make it great for off-roading, but its famous design is what really makes it so capable. It's easily removable door panels aren't the only things that make the Wrangler perfectly-suited for life on the trails.
For starters, the standard 33-inch tires give it great ground clearance over rocks or logs. The air intake is also positioned high so that you can ford your way through water with ease.
Uneven terrain factors into the design too. The available Sway Bar Disconnect allows your front wheels to drop further and compress more, giving your suspension more freedom while off-roading.
Steep terrain is no match for the Wrangler either. The Hill Start Assist minimizes roll back by starting acceleration again before unlocking the brakes. You can head down hills safely too with Hill Descent Control.
Another great feature that will help you have a safe and capable drive is Trailer Sway Control. When it's time to utilize that great towing power this system will kick in by applying braking or engine throttle to keep your payload stable and under control.
Test Drive The Jeep Wrangler
For off-roading adventures around Cassville, Mt. Union, and Huntingdon, the 2018 Jeep Wrangler offers the reliable performance and versatility that has come to define Jeep.
If this 2018 Jeep Wrangler review has you dreaming of heading outdoors for a day of off-roading, visit Price Motor Sales to take a test drive and learn more!