Plan Your Wine Weekend at These Best Wineries near Cassville PA

Can you imagine anything more relaxing than enjoying a delicious, aromatic glass of vino while overlooking your area's most gorgeous landscape? If you consider this your idea of a perfect weekend, we just so happen to agree!
That's why we're here to get you set up for a wine getaway that you can squeeze into a few days with our guide to planning your wine weekend at the best wineries near Cassville, PA. Thanks to our selection of vino destinations, you'll be sipping your way to happiness in no time! And if you're hungry afterward, there are plenty of dining options in the area.
Happy Valley Vineyard and Winery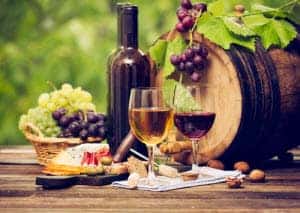 If you've been searching for a nearly endless supply of wine to last you for months to come, stop on over at Happy Valley Vineyard and Winery. Here, you can adopt your very own barrel of vino, which supplies you with five cases of your favorite vintage or a mixture of different varieties.
So, whether you're a white wine enthusiast or a red wine fanatic, you can mix and match your most beloved vino. Plus, barrel adopters are welcome to enjoy the annual Happy Valley dinner, which features delicious dishes paired with this winery's best concoctions.
But, if you're happy just stopping by this hotspot for a quick libation, you're free to choose from their enormous selection of wines, including Blushes, Reds, Whites, Sparkling Wines, and Specialty options. For a sweet sensation, try their Red Raspberry wine, which serves as the ideal accompaniment to your favorite slice of cheesecake or chocolate treat.
Check out their Cafe menu so that you can wine and dine like never before! Of course, in every group, there may be someone who doesn't much care for wine. In that case, send them over to the Happy Valley Brewing Company for a craft beer! It's just one of many popular Pennsylvania breweries in the area.
Mount Nittany Vineyard & Winery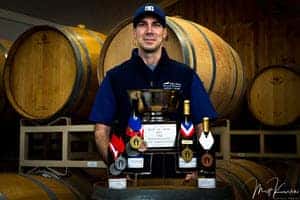 To completely unwind during your weekend of freedom, make sure that your glass of Savignon Blanc comes with some gorgeous mountain views. And at Mount Nittany Vineyard & Winery, you'll sample some unique wines for free while soaking up the beautiful views near your town.
And it's not just the sumptuous surroundings that have wine lovers returning to fill up on these local creations. In fact, this vino sanctuary recently earned a Double Gold award at the 2018 Pennsylvania Winery Association competition for the "Best Dry White Wine" and the overall "Best Dry Wine" for their 2016 Chardonnay Reserve.
What makes this white so good? Well, for starters, it's aged in premium American Oak Barrels for a subtle, woody finish. On top of that, this Chardonnay tantalizes your taste buds with notes of Grapefruit, Melon, and Vanilla.
Take a look at their other award-winning wines by visiting their Facebook profile!
Olivero's Vineyard
For over thirty-five years, Olivero's Vineyard has been pouring some of the finest wines in the area, all situated on a picturesque and historic 90-acre farm. With their selection of remarkable vinos, you'll be sure to imbibe on something that wows your senses.
While you're tasting the fruits of their intensive labor, you and your friends or significant other are free to roam the quaint property and say hello to their neighborly horses, Buck and Vino.
And if you're looking for something that calls back to this vineyard's original roots, be sure to savor their award-winning Traminette, which delights your palette with rose, peach, and passion fruit aromas. Or stick with something traditional like their incredible Cabernet Sauvignon that finishes off your meal with hints of Vanilla, Blackberry, and Spices.
Don't forget to stop by their Instagram, where you'll browse through photos of their past events!