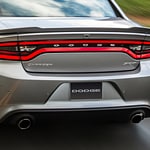 The Dodge Charger is known for its power and performance. But what many people don't know is that it's also a fuel-efficient car.
-The first fuel efficiency feature that we will discuss is the Dodge Charger's Eco Mode. This mode can be activated by pressing a button on the center console. When Eco Mode is turned on, the car's engine will automatically adjust to run more efficiently. This means that you will use less gasoline and your car will emit fewer emissions.

-The second fuel efficiency feature is the Dodge Charger's stop-start technology.