Are you visiting a friend at Penn State or maybe just want to see the sights of the beautiful Pennsylvanian landscapes? Well, you should check out the best bed and breakfasts near State College, PA, and discover the one you want to stay at during your visit to our gorgeous state! The helpful staff at Price Motor Sales have chosen the three loveliest bed and breakfasts you can find in and around State College, so learn about each one and then choose the one that's best for you!
---
---
Hudson House Bed and Breakfast
Originally built in 1990 but opened to the public in 2004, Hudson House is a bed and breakfast in State College, PA that's just five miles away from the Penn State campus. This BNB comes with three rooms to choose from, starting at $145 a night. The Hudson House was designed by brilliant architect Randy Hudson and is placed on a nine-acre stretch of land bordered by the Nittany Valley, which offers guests with remarkable views of the surrounding mountains and farmland. And for your breakfast, the Hudson House always serves fresh fruit, yogurt, pastries, granola, and home-baked bread. On the weekend, guests can enjoy a hot entree with their freshly-brewed tea or coffee.
Bed & Breakfast at the Rock Garden
If you want to cheer on Penn State during their football season or are looking for things to do in State Collge, PA, make sure you come to the Bed & Breakfast at the Rock Garden, which is located just minutes away from all of State College's greatest attractions. This bed and breakfast near State College, PA is placed at the bottom of Mt. Nittany and just a bit north of Boalsburg, PA, giving guests a beautiful view of the Pennsylvanian countryside.
This BNB was built in 2005 by Joe Thomas and Laura Stephenson, and offers five lovely rooms that sleep two to three people and have their own private bath. The cheapest rooms are offered at $125 a night. As for breakfast, guests can enjoy fresh-brewed coffee or tea every morning, along with scones that are baked from scratch and even three-egg omelets or blueberry pancakes!
Reynolds Mansion Bed & Breakfast
The final stop on our list takes us to the elegant Reynolds Mansion, which is located near State College in Bellefonte. This BNB has eight rooms available, five on the second floor and three on the third floor, each with its own bath. Starting at $139 a night, your stay can come with luxurious amenities such as your own fireplace, jacuzzi, and king-sized beds. You may not need to look for things to do in State College, PA since you won't want to leave the mansion!
The first floor features a parlor, billiards room, and dining room, which brings us to the three-course breakfast served daily. Likely the best breakfast included in any of the BNB's we've talked about, Reynolds offers variety with a menu that includes fruit cups or smoothies in your first course, eggs benedict or lemon pancakes in the second course, and a fresh-baked dessert including chocolate chip muffins and fruit crumbles. They even have gluten-free, vegetarian, and vegan options as well!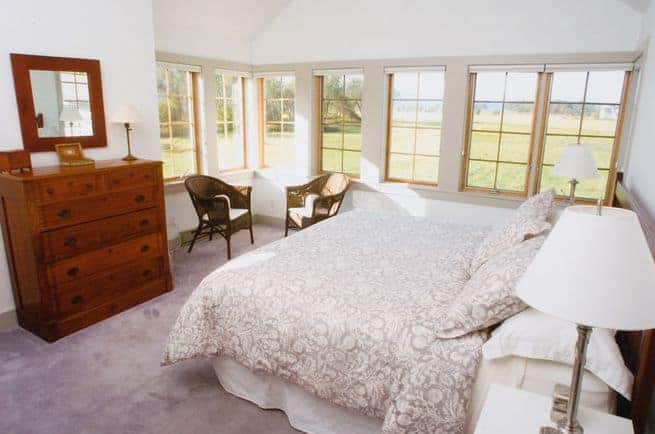 Discover the Best Things to do in State College, PA!
So, which of these bed and breakfasts near State College, PA is your favorite? Be sure to make reservations now before they get booked up in the coming months! And while you're here, feel free to contact us for more BNB information, and check out some of our favorite restaurants in Pennsylvania, as well as the best family activities around.