So, you've taken the first step and decided it's time to buy a new vehicle. Now, the question that remains is, "Should I buy or lease?" It may seem like a daunting question on the surface. However, when you take the time to seriously consider your unique financial situation, your needs as a Huntingdon commuter, and what you'd like to be able to do with your vehicle, the decision becomes quite simple! To ensure you make a smart choice, explore the benefits of leasing vs. buying with Price Motor Sales, below.
---
---
Advantages of Buying
No Mileage Restrictions:If you like to drive your vehicle up, down, and all around Mount Union, you might feel constrained by the mileage restrictions that go along with lease agreements. When you buy a vehicle, you'll be free to drive wherever you want, whenever you want.
Total Ownership: Buying a vehicle means it is 100 percent yours, no ifs, ands, or buts about it! You'll have total freedom to do with your vehicle exactly as you please.
Customization: Ever seen a holographic, hot pink, or glittering car on the streets of Altoona and thought, "I want that?" When you buy your car, you can have that! Because you're the sole owner of the vehicle, it's yours to customize as you see fit.
Ability to Sell: Without the attachment to a lease agreement, you can sell your vehicle at any time.
Financing Options: The car financing process is generally more friendly to shoppers who have not-so-great credit scores. In addition to this, you'll have the option to refinance your loan later, getting a lower interest rate and lower monthly payments.
Less Cost Over Time: Some choose not to buy their vehicles because it's more expensive at the point of purchase. Over time, however, your vehicle becomes less expensive to own.
Advantages of Leasing
Lower Payments: Both monthly payments and down payments will cost you significantly less when you lease a vehicle as opposed to buying.
Less Sales Tax: Most states offer a dramatically lower sales tax on leased vehicles. Depending on where you live, you might even only have to pay tax on the amount you paid for the down payment and monthly payments.
Trade-Ins: Getting behind the wheel of your next vehicle is delightfully simple when you're leasing. All you need to do is head to the dealership, close out any remaining fees, then pick out your next new vehicle!
Great Coverage: When you lease your vehicle, you won't have to stress over warranty coverage or regular maintenance. So long as you don't put more miles on the odometer than you signed up for, your services will be covered.
Options: These days, there are constantly new vehicle technologies to get excited about. If you lease your vehicles, you'll always be able to drive a model with all the latest tech offerings.
High Approval Rate: Even if you have poor or no credit, it's very possible to be approved for a lease, which is not always the case when you're seeking out a loan.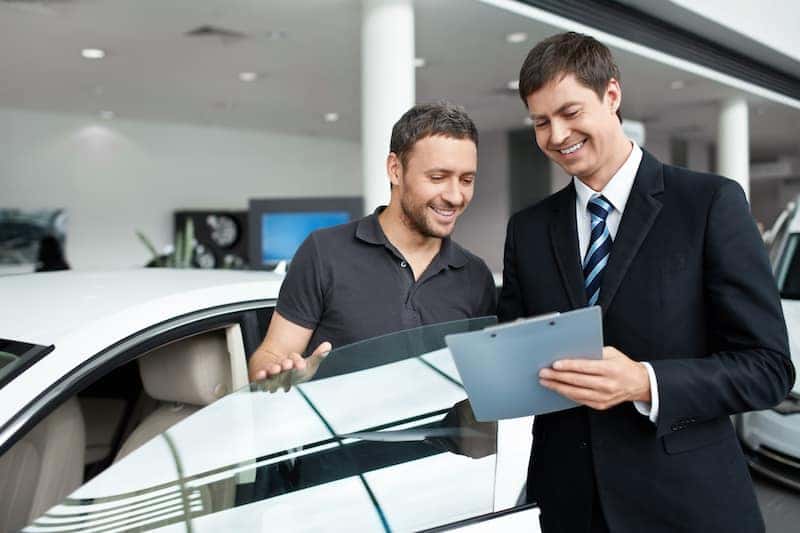 Discover Your Next New Vehicle at Price Motor Sales!
If you're still having a bit of trouble deciding whether to lease or buy, keep in mind that this decision should be based entirely on your unique needs and budgetary limits. When you're ready to get the process started with Price Motor Sales, you can apply for financing online or start exploring our leasing and financing offers. Should you have any questions along the way, please don't hesitate to reach out to our team, and find out for yourself what a good interest rate is. For more information like this, find out the differences between used vs. certified pre-owned vehicles.