How to Take the Doors off Your Jeep Wrangler: A Step-by-Step Guide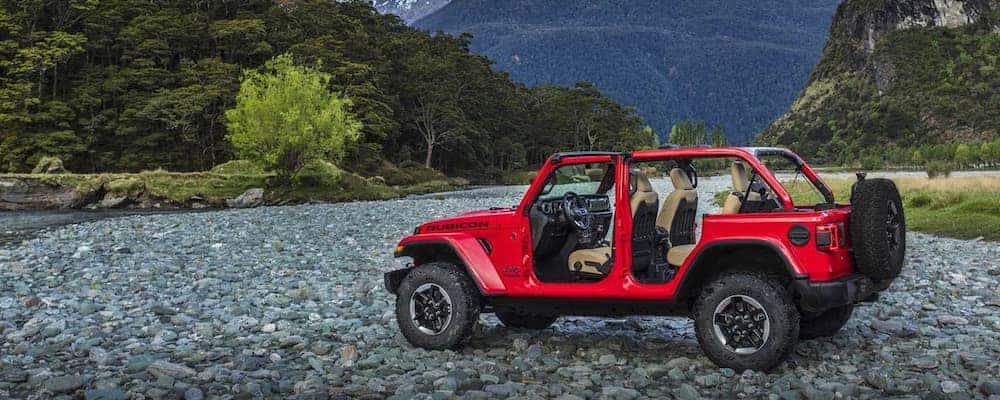 Drivers who are looking to get off the beaten path and out of Huntingdon will love the adventure-ready Jeep Wrangler and it's well-appointed interior. Whether new or used and no matter which trim level you drive, your Wrangler will have the awesome ability to remove or add parts as you wish. It may seem daunting, but learning how to take the doors off your Jeep Wrangler is simple. Just consult our guide below!
How To Remove the Doors on a Jeep
If your Jeep has windows, the first thing you should do is bring them down so you can protect the glass. After this, your steps will be as follows:
Disconnect any power cables by removing the footwell under your dashboard or by the b-pillar. This should pop off by removing the clip that attaches it.
Remove the door straps by gently lifting them off the hooks.
Remove the bolt from the door hinges and gently slide the door off and away.
It's as simple as that! Now that you've gotten it done, it's time to head out for a ride around Cassville for a breezy ride. Take care to stow your Wrangler doors in a safe, dry area. An added tip: lubing the door hinges will make it easier to slide the door off the next time you want to do so.
Why Would I Take the Doors off my Wrangler?
If you're a novice Jeep Wrangler owner, you may wonder why the doors are removable in the first place. One reason is, simply, because it's fun! Whether you're driving around Altoona with your friends or heading out on an off-road adventure, the immersive feeling you get from the doors being removed is a thrill.
There is another, more practical reason to take off the doors on your Jeep: It reduces the vehicle's weight and minimizes overall fuel consumption. When you're traversing rugged trails on your latest excursion, removing your doors will help to save you money and give a unique flair to your off-roading experience.
Let the Experts at Price Motor Sales Help!
If you're up for a new experience and want to take the doors off your Jeep Wrangler, our experienced service team will be happy to help you if you run into any issues doing so at home. Just schedule an appointment with a knowledgable technician today, and you'll be having the time of your life on Mount Union roads in no time. Looking to upgrade your Jeep? Explore Wrangler accessory options!
The 2020 Jeep Gladiator will also feature removable doors, top, and windshield, making it the only open-air truck on the market. Preview its other features with us and be among the first to know when it arrives at our showroom, and be sure to contact us to learn important off-roading info like how long you can drive on a spare tire!
More From Price Motor Sales
You can find everything you want inside of a Jeep interior, and that especially goes for the 2019 Compass! If you're in Huntingdon or Mount Union and looking for a family-friendly and fully-featured SUV, set your eyes on the 2019 Jeep Compass. This vehicle comes equipped with capable performance specs, a stylish look, and Jeep interior…

Jeep brand SUVs are well-known for their state-of-the-art performance capabilities, sleek designs, and a typical suite of interior features and amenities — all of which you get, plus more, with the 2019 Jeep Compass. If you're in Huntingdon or Mount Union and looking for a remarkable and reliable compact Jeep SUV with a capable towing capacity,…

The 2019 Jeep Wrangler is available in five distinctive configurations, catering to the unique expectations of Huntingdon drivers. Whether your plans involve hitting the trails sans doors or cruising the city in luxury, you're sure to find a Wrangler trim level that fits the bill. While making your decision, you can rest assured that no…