2018 Jeep Cherokee vs Toyota Rav4

When it comes to choosing a crossover sport utility vehicle, it really is hard to outdo Jeep. After all, this is a company whose legacy stretches back to the 1940s when the Jeep Willys got Allied Soldiers anywhere they needed to go on the battlefields of Europe, and the Willys legacy continues to this day.
Of course, that doesn't stop other manufacturers from trying to compete for dominance on the Cassville, Mt. Union and Huntingdon, PA, roads. Toyota's Rav4 has long been a respected entry in the small crossover sector, with solid technology and a fun driving experience. It still, however, isn't quite a Jeep Cherokee. Discover why the 2018 Jeep Cherokee beats out the Toyota Rav4 when it comes to a direct head to head battle of small crossover sport utility vehicles. Contact us to learn more information.
Jeep Cherokee vs Toyota Rav4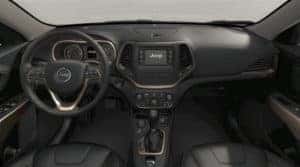 The biggest change to the 2018 Jeep Cherokee this year, is making the Cherokee Latitude the standard trim. This is a massive improvement from last year, where the Latitude was the second trim up. This means you're getting a lot more features at the base level. In addition, there's been a new trim level added to the lineup, while the Trailhawk and Limited trims get more equipment.
Toyota, as well, hits the showroom this year with a new trim level in the Adventure, which raises the ground clearance a bit, and gives you access to an extra add-on package, which of course will cost add-on money to get. In the end, Jeep's upgrades this year give you not just more bang for your buck, but more overall.
Engine Performance
The strength of Jeep is in its engine lineup, which underpins the incredible off-roading performance of the lineup. The Cherokee is no exception. It starts with a base 2.4-liter 4-cylinder which can put out 184 horsepower and 171 lb.-ft. of torque. From there it's possible to upgrade to a 271 horsepower V6 engine which gets 239 pound-feet of torque. Both are powered by a nine-speed transmission.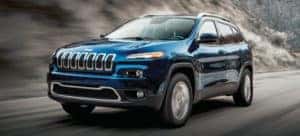 Compare this to the 2.5-liter four-cylinder of the Rav4, which only gives you 176 horsepower with 172 pound-feet of torque. The slight increase of torque is really negligible compared to the ten horsepower the engine loses. In addition, there's no engine upgrade available on the Rav4.
Off-Roading
If it's an off-road vehicle you're looking for, don't even think about the Rav4. While it might be fine for snowy roads in PA winters, to tackle the trails, mud, and uneven terrain, Jeep consistently offers best-in-class performance via its Trailhawk trim levels.
This trim gives you special Active Drive II advanced AWD, all-terrain tires, specially tuned suspension, rear locking differential, ascent and descent control, underbody skid plates and tow hooks. It's purely built for trailblazing.
Jeep Cherokee vs Toyota Rav4 – Conclusion
The Cherokee handily wins a battle of the best small crossover with the Toyota Rav4. If you'd like to test one for yourself on the roads of Mt. Union, Cassville, and Huntingdon, PA, Price Motor Sales can help. Just stop into our showroom or give us a call today!