Jeep Cherokee vs Ford Escape
When it comes to choosing your next compact SUV, we're sure you've come across the Jeep Cherokee and Ford Escape in your research. With two such great vehicles on the market, it might be a tough match for drivers in Cassville, Mt. Union, and Huntingdon to decide which is the better pick.
That's why our team at Price Motor Sales has put together this comparison of the Jeep Cherokee vs. Ford Escape, so that you can see for yourself the features offered by both, and decide which one would be the better fit for your driving needs. Read on to get started!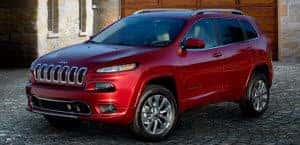 Jeep Cherokee vs Ford Escape: Interior Space & Technology
The Jeep Cherokee and Ford Escape are both great choices for your next family-friendly SUV with spacious passenger room in both. The Jeep Cherokee offers an impressive 40.3 inches of legroom in the back seat, while the Ford Escape falls a bit short with 36.8 inches for backseat riders to stretch out.
When it comes to loading up the extra luggage or grocery bags, you can't go wrong with either choice. Both the Cherokee and the Escape offer at least 54.9 cubic feet of space with the back row down, so you won't have an issue taking either ride on your next family vacation.
And if you're cruising along to your next vacation spot, you might want to know about the entertainment features offered. Both the Jeep Cherokee and Ford Escape come standard with an infotainment system with Bluetooth® accessibility, so you'll always be connected on even your longest drives.
Cherokee vs Escape: Engine Power & Performance
Engine power is also another consideration to factor in when deciding on which SUV will benefit you more in your daily drives. The Jeep Cherokee's base model comes with a 4-cylinder engine that produces 184 horsepower, while the Escape follows with a 4-cylinder that puts out only 168 horsepower.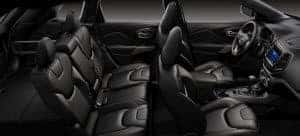 These two family cruisers are almost similar when it comes to fuel economy. Both earn an EPA-estimated 21 city MPG, while the Cherokee earns an EPA-estimated 30 highway MPG, and the Escape follows closely behind with 29 highway MPG.
And might we add, the Cherokee can two up to 4,500 pounds with its V6 engine option. Unfortunately, the Escape can only tow up to 2,000 pounds, so the Cherokee is the better pick if you're looking to hitch up your boat or trailer to bring along your next family trip.
Safety in the Cherokee & Escape
When you're looking for your next family vehicle, you'll definitely want to check out which safety features come standard in the models you're interested in. In both the Cherokee and Escape, you'll get a rearview camera, and the Cherokee throws in parking sensors without any upgrades.
Both vehicles come with available assistance features, such as Blind Spot Monitoring, Lane Departure Warning, Adaptive Cruise Control, Rear Cross Traffic Alert, and more! These assistance features will give you an extra sense of security while you're driving your loved ones to your next destination.
Jeep Cherokee vs Ford Escape: The Results
While both the Jeep Cherokee and Ford Escape are great choices for your next compact SUV, we really love the extra passenger space, engine power, and towing capacity of the Jeep Cherokee, making this our pick for a test drive.
If you're in the Cassville, Mt. Union, or Huntingdon area, and would like to learn more about the Jeep Cherokee, contact us at Price Motor Sales today!