2018 Ram 2500 vs GMC Sierra 2500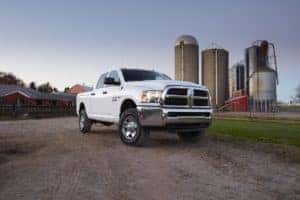 You deserve only the best when you're looking for a new pickup truck in the Cassville, Mt. Union, and Huntingdon areas. The truck market isn't nearly as competitive as the sedan or crossover market, but there are still a wide variety of great options to choose from. How do you know which option is best for you?Two of the greatest trucks available are the 2018 Ram 2500 and the 2018 GMC 2500. Both have a lot to offer, but which is best for you? To make your decision easier, we've compiled this handy comparison that puts these two behemoths of the truck world up against each other. Learn which one works best for your needs with our Ram 2500 vs. GMC Sierra vehicle comparison.
Capability
When you opt for a heavy-duty truck, you probably want to do some serious towing. Fortunately, you'll have plenty of capability at your disposal, no matter which one you choose. Both maximum towing capacities and payload capacities are certainly impressive, which explains why these two tend to stand out from the rest. The Ram 2500 does have a few advantages over the Sierra, however, like the standard 5-link coil rear suspension. While this doesn't increase towing capacity, it does increase maneuverability, which makes it easier to tow heavy loads. The primary difference is the Ram's rear air suspension that automatically adjusts alignment to create a level load, no matter what you're towing. This is a class-exclusive feature, so you won't find it on the Sierra 2500 or any other truck for that matter.
Engine Power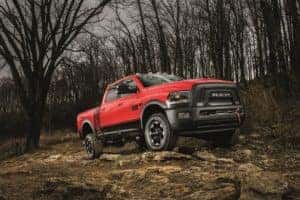 Many truck drivers are looking for diesel power under the hood. You'll be able to find both with these vehicles. The Sierra's Duramax V8 engine and the Ram's Turbo Diesel I6 engine both have plenty of power and torque to offer. The Ram's diesel engine has a few advantages, though, like its 15,000-mile oil change interval. No other truck in the class can match that. When looking at standard gas engines, the Ram significantly outperforms. The standard 5.7L HEMI® V8 engine boasts an impressive 383 horsepower and 400 lb-ft of torque. Meanwhile, both of the available standard gas engines for the Sierra only offer 360 horsepower and 380 lb-ft of torque. If that's not enough, the Ram can also be upgraded to a 6.4L V8 engine with a best-in-class 410 horsepower and 429 lb-ft of torque.
Technology
If you're looking for the latest in automotive tech, the Ram 2500 is going to be your best bet. With its 8.4-inch touchscreen complete with the Uconnect® 4C NAV system, the Sierra's 8-inch touchscreen can't really compete. The Ram also features an available full color 7-inch digital cluster on your instrumentation panel behind the steering wheel. With this, you can view essential information about your truck like directions and general diagnostics without having to take your eyes off the road as much. The Sierra lacks a similar feature.
Ram 2500 vs GMC Sierra 2500
While both trucks in our Ram 2500 vs. GMC Sierra 2500 comparison performed admirably, the 2018 Ram 2500 seems to be the better choice overall due to its improved features and versatility. If you want to get your hands on one in the Cassville, Mt. Union, and Huntingdon areas, head over to Price Motor Sales and test drive the new Ram 2500 today!